Romance At Sea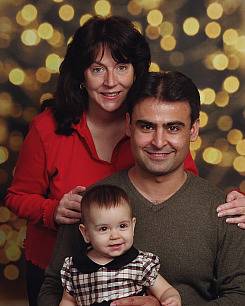 "So how did you meet your husband?" "Really? On a ship?" That's pretty much what I hear, but The Love Boat? Not.It was April 1998, my birthday. I was enjoying dinner and cake with my best friend Pam, her mom and dad. Earlier that year Pam had asked me to join her for a European cruise of which I quickly declined. Hey, I had my reasons… Anyhow, I don't recall all the details nor will I bore you with them, but discussions over dinner once again lead to Pam's upcoming cruise. Unfortunately I don't remember the exact words but it was the discussion with her father and his words of wisdom that brought such clarity and simplicity to the subject that I decided right there and then, I was going!
September 1998, we were off! It was a couple of days into the cruise that I met one of the casino employees, Mouzafer, whom I thought was one of the most handsome men I've ever seen. All I'll say is this, one thing led to another and I had a wonderful time. Numbers? Addresses? Yes they were exchanged, but I'm a realist, I knew that I would never see this person again, EVER! I was ok with that, really. I had fun, what more could I ask for? When I disembarked I was extremely sad at that same thought, you know the one about never seeing him again.
A few weeks later I answered my phone and to my surprise it was him! Wow, what a shocker that was. He called many times after that. You see this relationship was in his hands; I had no way (sensible that is) of contacting him. He had to make all the moves and rightly so. We met again for the first time many months later in San Juan Puerto Rico and it felt like I was back on the ship with him. We met again and again and again. He's taken me to countries I'd only dreamt of visiting.
Where are we today? We've been married since March 2001 and have a beautiful daughter.

She was born in November of 2002. We went back and forth for months trying to decide on a name for her. We were all set and had decided on Oya, until one night my husband called me from work. "Laura, let's name her Deniz." 'No, people will pronounce it like Denise and I hate the name Denise. Why do you want to name her that?" "Well," he replied, "Deniz in Turkish means 'of the ocean' and we met in the ocean." Now, how could I say no to that? Answer: I just couldn't. The name fits her perfect; she's the best thing in our world. Deniz joined United Airlines Mileage Plus, Delta Sky miles since she was 3 months. She's flown over 25,0000 miles and 14 flights before she even turned 1. She's been in busses, taxis and ferries. Soon she'll need new pages in her passport!The Moral of my Story?
You see if it weren't for Fran, who knows Pam, who knows me, I wouldn't have my husband and daughter. It's because of Fran that my life took the course it did and changed forever. So thank you Fran for everything.
The next time this wonderful travel agent Fran invites you to a cruise…GO…you just don't know where it will lead you.
But she that hath the steerage of my course direct my sail.