Canal (Barge) Cruising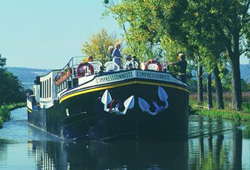 Canal Cruising: What's the Secret?
So, how are river and canal cruises different? By definition, river ships cruise rivers, and barges cruise man-made canals, just 35 to 40 feet wide. The primary difference in the vessels is, of course, size. A barge cruise, a much smaller vessel than a river ship, carrying only a handful of passengers, can actually penetrate canals — the most ancient of waterways in Europe, for instance, that are off-limits even to river ships. So, you visit even more off-the-beaten-track villages and small towns, whereas on a river cruise, you'll find more onboard features and will call at bigger towns and major cities.
As for destinations, canal cruising is basically limited to Europe, while river cruises take place worldwide. And, even within Europe, these cruises are the most popular in France, with canal cruises offered only on a limited basis in other countries, such as Germany, Holland and Belgium.
The sheer intimacy of a barge trip is intriguing and tantalizing, particularly for those wanting to experience off-track parts of Europe even more than river cruising. Imagine being one of six to 12 passengers, sailing on a boat that moves so slowly you can hop off with a bicycle in one village, have a nice lunch and a pleasant ride, and rejoin the ship a few stops down the canal.
Typically, companies like French Country Waterways buy old barges and then rebuild them. Inside, these luxury hotel barges offer all the comforts of home, and then some. (Do you have a private chef? You will on a barge.) Four-course candlelit dinners featuring the finest local ingredients are a French Country Waterways standard. And the wines? Oo-la-la. However, don't expect oo-la-la with regard to cabins. Typically, they are sleep-only with no TV's, Wi-Fi or fridges.
U.S.-based Special Places Travel books cruises for 55 privately owned barges in France. Depending on the number of passengers onboard, a minivan or a motorcoach accompanies the barge to transport folks on shore excursions. At an average canal cruising speed of four miles per hour, or 70 to 80 miles per six-night cruise, it is easy to travel in tandem.
Shore excursions are covered in the costs of the fares and can be quite personalized, depending on the cruise. If, for example, you and your family or friends have chartered the entire barge, you can dictate which excursions take place — whether it is antique shopping, visiting the grounds of a count's private estate or spending time with a really great chef.
English is the onboard language. It is interesting to note, too, that many of the people who crew on barges are native English-speakers from Britian, New Zealand and Australia.