Who, Where & When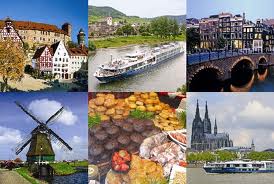 You're more likely to see a Carnival or Royal Caribbean ad on TV than one for French Country Waterways or Uniworld Boutique River Cruises — leaving many would-be river cruisers uncertain of who the major players are in this cruising niche and what itinerary options are available for inland cruising. Read on for our very own Who's Who and What's Where of river and canal cruising around the globe.
~ EUROPE ~
Traditional itineraries have typically focused on major rivers like the Rhine, Danube and Main. The Danube is a super choice for first-timers; a typical voyage would sail through countries like Austria, Hungary and Germany. The Rhine leads to Amsterdam, Cologne and Coblenz. France is increasingly popular, and most companies offer Lyon-based trips down the Rhone and Saone rivers, with highlights that include the region of Provence and wine country.
Other rivers you can cruise include the Seine, Elbe, Po, Douro, Moselle and even the Volga. Indeed, one of the hottest itineraries these days is a "Journey of the Czars" sailing between Moscow and St. Petersburg — Grand Circle Small Ship Cruises and Viking River Cruises operate these exotic trips. Other favorites include spring "Tulip Time" cruises though the Netherlands and Belgium and late fall Christmas market shopping cruises to Germany, Austria and Eastern Europe.
Who Goes There: The key players in the river cruise world are Avalon Waterways, AMAWATERWAYS, Grand Circle Small Ship Cruises, Tauck Cruising and Uniworld River Cruises. For canal cruising, try French Country Waterways or European Waterways.
The Season: Unlike the traditional cruise industry, most European river and canal ships operate seasonally — during spring, summer and fall months with a hiatus during December, January and February. One exception is the Christmas season in Europe, where several river cruise operators offer November and December itineraries for holiday shopping, despite the chilly weather.
~ ASIA ~

China is a hot destination, appealing to both cruise line operators and passengers. Not only is the Yangtze a most exotic trip for even well-traveled cruise travelers, it also lacks limitations — such as low bridges — posed by Europe's rivers. That means U.S.-based operators can add a lot of traditional cruise amenities like cabins with balconies, Internet cafes and coffee bars to their China-based ships. Typical Yangtze River cruises are paired with land-tours, as well; expect to visit Beijing and Shanghai and lots of little villages along the way.
Elsewhere in Asia, the Mekong River in Cambodia and Vietnam is an up-and-coming destination. Cruises wend their way from Siem Reap to Ho Chi Minh City, passing rural villages, exotic temples and floating markets along the way. Often, land stays are tacked on to these cruises.
Who Goes There: Viking River and Victoria Cruises are the main players on the Yangtze. Grand Circle Small Ship Cruises also has a Yangtze offering in association with Victoria Cruises. In southeast Asia, AMAWATERWAYS has two ships — Amalotus and La Marguerite — in the region and Viking offers cruises on RV Tonle.
The Season: Some Asian operators will go year-round, while others stick to the April to October season.
~ EGYPT ~
Cruising is the easiest way for tourists to explore the Nile and the famous temples and tombs — Luxor, Karnak, Kom Ombo, Edfu, Dendera and the Valley of the Queens and Valley of the Kings — that straddle it. Nile river cruises traverse the waters between Luxor and Aswan, with itineraries ranging from three days to a week in length. On most trips, the major port stops along the Nile include Esna, Edfu and Kom Ombo, but longer cruises may also call at Dendera and Qena (and spend more time onshore, to boot). The Nile is so popular with tour operators that the river can get crowded during the high season.
Who Goes There: Companies with more upscale offerings include Grand Circle Small Ship Cruises, Abercrombie & Kent, Movenpick, Sonesta Nile Cruises, Nile Exploration Corp. and Travcoa. If you're considering a splurge, check out the Oberoi Philae Nile Cruiser.
The Season: Nile River cruises operate year-round, but the high season is typically from October to May.
~ SOUTH AMERICA ~
Several oceangoing cruise ships offer itineraries on the Amazon River, but they tend to focus on Brazil, where the river is wider and ports are more urban. The best way to genuinely get a feel for the region's nature and culture is to sail on a smaller ship, and Peru is the more popular and accessible destination. Ships embark in Iquitos or the newer port just upriver in Nauta.
Instead of touring cities or ancient temples, you'll be taking walks through the rainforest to look for monkeys, sloths, insects and fascinating plant life or visiting small villages where you can interact with locals. More so than on other river cruise itineraries, you'll actually spend little time ashore because the voyages focus on the river itself, with motorboat rides along the water's edge to look for bird life.
Who Goes There: International Expeditions offers the best "of the place" voyage experience on the river, offering trips on an intimate teak riverboat that accommodates 27 passengers. For a more chic and modern vessel, Aqua Expeditions cruises nearly the same route on its boutique hotel-like ship, Aqua.
The Season: Amazon River cruises operate year-round (though big-ship lines typically visit in the winter). The water levels do fluctuate, however — up to an astounding 40 feet — with December through May being the high-water season and the rest of the year low-water season. High-water season floods the forest, allowing you to move deeper into the forest via skiff and zip around smaller tributaries that, otherwise, are inaccessible. Low-water season permits more onshore walks.
~ NORTH AMERICA ~
While the river cruising scene in Europe expands, it has contracted noticeably in the U.S.A. and Canada. Cruise West, the largest U.S. line that operated domestically, shuttered in 2010 after suffering financial problems. Two years before that, RiverBarge Excursion Lines and Majestic America Lines went dark. Most of the Mississippi River itineraries have disappeared.
If you want to sail U.S. rivers, itinerary options include the St. Lawrence Seaway (which straddles the Eastern U.S. and Canada), tributaries of the Chesapeake Bay and rivers like the Mississippi, Hudson, Columbia and Snake. For the most part, these voyages are geared to older, more sedentary travelers.
Who Goes There: Ships that travel North American waterways tend to be smallish, usually accommodating 100 passengers or so. The primary operators today are St. Lawrence Cruise Lines, the budget line Blount Small Ship Adventures (formerly American Canadian Caribbean Line) and American Cruise Lines. Upscale expedition line Lindblad Expeditions and American Safari Cruises also offer Columbia and Snake River itineraries.
The Season: You can find North American river cruises from March to December, but sail dates and seasons will vary, depending on the particular river you'd like to sail.